2012 Hunt
Rick Cline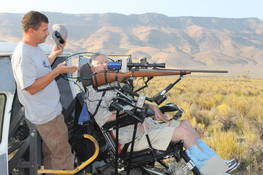 Rick Cline owned and operated an excavation business prior to the accident that left him paralyzed. He was in Mexico doing some volunteer work. On the day before he and his party were to depart back to the states they went to the beach for some fun. Rick was out in the ocean and met a wave head-on, which knocked him into the ocean floor. "It didn't hurt, but when I floated to the surface and couldn't move, I began to panic a little.  There I was in the ocean, face down, thinking to myself, 'What happened, did I break my neck?' After realizing what happened I began to pray and hold my breath. I held my breath until I almost passed out, before a friend came to retrieve me from the water," said Cline. A devoted Christian, Cline said his faith in Jesus Christ has sustained him through some pretty difficult times. "This opportunity has meant the world to me. The excitement you feel as a hunter is too hard to explain unless you have experienced it. As the rush of adrenaline takes over your body it is better than any other feeling. There I was, gun in hand… well gun attached to chair sighting my antelope through the television screen lining the shot up, and after two misses I finally calmed down enough to make the shot count on my third attempt."  Rick was joined on his outing by Nigel Harrison, an N.O.W. board member and Tim Beaupre who was responsible for creating and building the gun rest and shooting mechanism that enabled Ricks success.
Lisa Mitchell-Reiger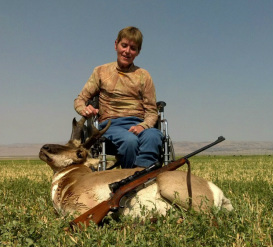 Lisa Mitchell-Rieger who was a safety trainer at a warehouse prior to suffering a right brain hemorrhagic stroke resulting in paralyses of her left side, had never shot a rifle when she was contacted by N.O.W. board member Larry Johnson. 'I explained to Larry that I had never shot a rifle, ever. I wasn't sure how the N.O.W. folks would react to a tag holder who has never shot. He explained that he would teach me prior to the hunt. He and I spent several hours at the range learning to shoot," said Mitchell-Rieger. "I was excited and nervous; those were the two biggest emotions I felt on opening day." Lisa was joined in the field by her shooting mentor and N.O.W. board member, Larry Johnson, and N.O.W. President, Chad Bliss.
Henry Tuckett "Mountain Man"
Taught the group how to build a fire with a flint lock muzzle loader and told stories of the trials and tribulations of being a Mountain man in Nevada.
Brian Martinez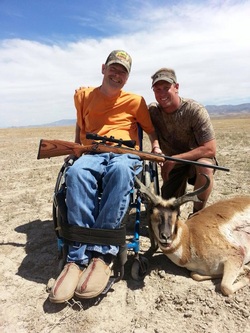 The veteran hunter of the group was Brian Martinez, who in the past has harvested several mule deer bucks, numerous birds and waterfowl, but never an antelope. Martinez suffered his injury while riding bulls in his home town rodeo in Toole, Utah at the age of 17. "I have been disabled longer than I was abled, he explained. I don't think I have slept but three hours in the last week, every time I close my eyes I start to think about this hunt and then the anxiety gets the best of me."  There may not be an adjective that can describe the emotion Martinez was feeling prior to the hunt. Martinez was joined during his outing by his younger Brother Bryce Vorwaller, Water Rights Administrator at Newmont , Matt Murray, N.O.W. board member and Newmont's Sr. External Communications Representative, Austin Hughes, and Jay Presti, the Host of "Blue Collar Adventures."